When I Laughed Out Loud
Last week I met a man I've known for many years. He's someone whose voice and laugh I could recognize even in a loud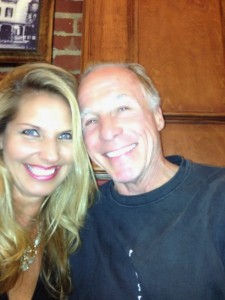 crowded room because I heard it just about every day for well over a decade while commuting to and from Hofstra University, St. John's Law School and my first couple of jobs after graduation. He's also the guy who I think was the catalyst or inspiration behind the creation of the acronym "LOL" because day after day after day as I listened to him and his cohorts on the radio, I found myself literally laughing out loud at the off color and sometimes filthy but hysterical jokes, bits and stories. But I didn't feel like I was just listening to a radio show, for that hour or so while I was driving in my Datsun 280ZX, I was right there in the studio with them. I knew these people…I knew their talents, their flaws, their vulnerabilities and the things about them that everyone else made fun of. Their personal lives were completely exposed and nothing was sacred. We all knew where they grew up, what their families were like, what they did over the weekend, and of course we learned about everyone's eating and bathroom habits and their sexual experiences. It was reality radio, the precursor to reality television.
So when I met Jackie "The Joke Man" Martling (head writer for the Howard Stern Show for as long as I can remember) at The Space in Westbury, NY the other day, I felt compelled to walk over to him, put my arm around his neck and say "Jackie…I want to thank you…I want to thank you for making all those long and tedious years of driving on the Long Island Expressway and Northern State Parkway not just tolerable but incredibly enjoyable and memorable." "I also want to thank you for sharing your extraordinary gift of humor, laughter and amusement with me and millions of other people." "You gave us the opportunity to escape from reality while we were held hostage in our cars."
Jackie turned to me with a slight grin on his face and said quietly "That was so sweet…Thank you for telling me that…It means a lot to me." We shared a beautiful moment.
Jackie and I became instant friends and we're now in the process of developing a Long Island television show that will be filmed in front of a live audience. We're slotted to be co-hosts of the show. It's magic in the making so stay tuned!
And BTW, "F" Jackie!
http://www.JokeLand.com
@JackieMartling
"Jackie's Joke Hunt" on SiriusXM Howard 101