Everything Lidia Radio Show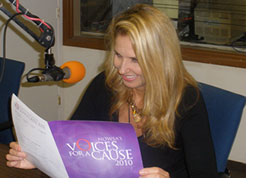 Welcome to the "Everything Lidia Radio Show" where you're challenged to "check your ordinary at the door" and "live a remarkable life!"

Your host and producer, Lidia Szczepanowski, delivers her positive message with passion, humor and intelligence inspiring you to "always be your best at whatever you try" while "putting your personal style into it". The "Everything Lidia Radio Show" offers useful information about a wide range of topics from "politics to pocketbooks". The show provides actionable insights that are simple and entertaining encouraging you to live a more fulfilling and fabulous life.

You can listen to the "Everything Lidia Radio Show" live every Wednesday evening at 6:30 pm on Long Island's WGBB 1240 AM or on the internet at www.am1240wgbb.com. If you happen to miss any of Lidia's shows, you can listen to any of them at anytime by clicking on the play button next to the show you would like to hear.
Long Island Royalty
Beauty, Brains and a Cause … Here they are, the newly crowned 2013 Miss Long Island and Miss Long Island Teen.
Tune in to the "Everything Lidia Radio Show" on Wednesday, August 29, 2012 at 6:30 PM on WGBB 1240 AM or streaming live via webcam at www.am1240wgbb.com when Lidia is joined by Jessica Ricco, Miss Long Island 2013 and Nikki Orlando, Miss Long Island Teen 2013 and they discuss what it takes to enter, compete and win a beauty pageant and what it means to hold the title.
New York State Parks: Jewels or Drains
From the world-famous Jones Beach to the great golfing opportunities at Bethpage State Park, Long Island is gifted with some of the best parks and recreational facilities in the country. Long Island's 20 state parks and historic sites attract nearly 20 million visitors annually. But these places are tired and crumbling. Can you imagine Long Island without these treasures?
Have unions and their employees contributed to the fall of our State Parks? Or can they actually save New York State money and save them?
Together We Will Find a Cure
The Carol M. Baldwin Breast Cancer Research Fund
The American Cancer Society's most recent estimates for breast cancer in the United States:
About 226,870 new cases of invasive breast cancer in women
About 63,000 new cases of carcinoma in situ (CIS) will be found (CIS is non-invasive and is the earliest form of breast cancer).
About 39,510 deaths from breast cancer (women)
Cellu-Craze!
A Real, Permanent Cure for "Cottage Cheese" Cellulite Using Laser: Cellulaze™
Cellulite is treatable at last! – In January 2012, the FDA announced its approval of Cellulaze as a safe, effective treatment for cellulite. Finally, patients can stop using cellulite treatments that promise magic and deliver less than stellar results. Cellulaze puts the power in surgeons hands to smooth and re-contour the skin.
In one 60-minute treatment, physicians can now treat a problem that plagues more than 85% of women and, until now, has been considered largely untreatable.
A Wrinkle in Time
Injectables, Fillers, Body Sculpting, Laser…Is Too Much Not Enough?
In the eternal search for eternal youth, some new technique or product is always being touted as the next best thing. Women and men seek out long-lasting non-surgical procedures that will reduce wrinkles and make them look younger or better. There are many different types of facial injections (some permanent and some temporary), each having a variety of brand names.
What are the most popular products and techniques?
Is it possible to have too much of a good thing?
Show Me the Money!
Making the Process of Securing a Mortgage a Breeze
Are you thinking of buying a home?
Is this the right time to refinance or buy a residence?
Do you have equity in your residence and want to pull some out for investment purposes?
Can you find out before you apply for a mortgage whether you will even qualify?
How much does a mortgage or refinancing typically cost?
Take a Walk on the Wild Side
What it really means to be Green…Trend or Lifestyle?
There are so many well intentioned not for profit "GREEN" types running around expounding their virtues that might kill a snake out of fear if they saw it come across their lawn. "They just aren't educated!" says Jungle Bob, "We try to point out that these creatures really make up a large volume of the life on Earth and have every right to live as much as the lions, tigers and bears. Money pours into certain not for profits that focus on these large mammals and that is great, but what we really need to try and do is save wild places, so all wild animals can live harmoniously and let nature take its course, not decide which ones to save and which ones to ignore.
The Coparazzi
Life in the NYPD Movie-TV Unit
In 1989 Patrolman Vincent Casale was transferred to his dream assignment, The NYPD Movie-TV Unit. This elite unit employed a limited number of police officers whose responsibility was to assist the motion picture industry while they rolled cameras on the streets of New York. Officer Casale found himself smack in the middle of New York filmmaking. Lights! Camera! Action! As a life long film fanatic he was over the moon! But were the stars in his eyes too bright? Was the world of filmmaking as glamorous and exciting as he thought?
Going on a Date, Virtually
Finding the Yin to Your Yang Online
Dating is the third most popular service provided through the internet. It is followed by music and games.
In the past decade, the rate of growth of online dating services was 154% per year.
Both women and men tend to lie about their physical appearance on online dating sites.
The online dating industry has gone from a $900 million industry in 2007 to a $1.9 billion industry in 2012.
Since 2006, about 17% of married couples have met by using an online dating site.
In the United States of America, 58% women and 48% men use the online dating services.
Nice Job, Kid
Davi Acts, Produces, Directs and Sings Sinatra
Gentlemen's Quarterly has compared him to silver screen classics Robert Mitchum and Lee Marvin. Interview Magazine called him a latter-day Humphrey Bogart.
His voice is suitably magnificent …. Robert evokes the ease of the Legend without coming off as a replicator. He makes these songs his own just like Dino and Mel did when they performed Frank's material. He will give our audiences a rare, classy treat. ~ Dan Aykroyd
There are a lot of guys trying to do this music but Davi comes closest to what Sinatra did – but is himself–very cool old school-stuff. ~ Mickey Rourke