Everything Lidia Radio Show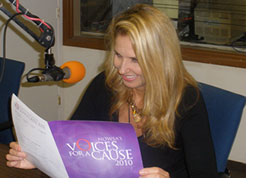 Welcome to the "Everything Lidia Radio Show" where you're challenged to "check your ordinary at the door" and "live a remarkable life!"

Your host and producer, Lidia Szczepanowski, delivers her positive message with passion, humor and intelligence inspiring you to "always be your best at whatever you try" while "putting your personal style into it". The "Everything Lidia Radio Show" offers useful information about a wide range of topics from "politics to pocketbooks". The show provides actionable insights that are simple and entertaining encouraging you to live a more fulfilling and fabulous life.

You can listen to the "Everything Lidia Radio Show" live every Wednesday evening at 6:30 pm on Long Island's WGBB 1240 AM or on the internet at www.am1240wgbb.com. If you happen to miss any of Lidia's shows, you can listen to any of them at anytime by clicking on the play button next to the show you would like to hear.
Long Island Royalty
Beauty, Brains and a Cause … Here they are, the newly crowned 2013 Miss Long Island and Miss Long Island Teen.
Tune in to the "Everything Lidia Radio Show" on Wednesday, August 29, 2012 at 6:30 PM on WGBB 1240 AM or streaming live via webcam at www.am1240wgbb.com when Lidia is joined by Jessica Ricco, Miss Long Island 2013 and Nikki Orlando, Miss Long Island Teen 2013 and they discuss what it takes to enter, compete and win a beauty pageant and what it means to hold the title.